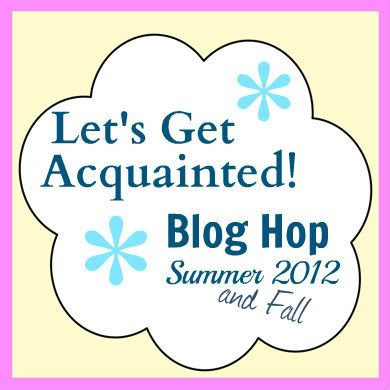 The blogs to visit this week:
Aug 21
Marta from
From Marta with Love
Marion from
My Quilt Diet
Aug 23
Ginny from
Fish Creek Studio
May from
Confessions of a Fabraholic
*********
This week's Advice for New Blogger's post comes from the fun and talented Rachael from Imagine Gnats. Last month, I asked you all what questions you have for our guest bloggers and thanks to those who replied, I had a brand new set of questions for Rachael.
1. What part about blogging most surprised you? Is there anything you wish you would have done differently starting out?
The people I've met, for sure! When I started out, I'm not really sure what I thought would happen, as I didn't really expect that just people I already knew would read my blog. I guess I thought that people just read blogs and then moved on. I wasn't a big blog reader, so I didn't know much about the relationships that could develop with readers and other bloggers. Starting out, I had about zero idea what I was doing. Oddly, I think that I worried more about what I shared than I do now and I think it was much less interesting! But I definitely had to start somewhere and I'm glad that I just started, even if some of those early blog posts are pretty embarrassing.
2. Do you ever experience blog envy? If yes, how do you deal with it?
There are about a zillion blogs that I wish mine was as cool as! I'm not sure I really have blog envy, though. When I find an awesome blog, I tend to think more along the lines of, "wow, that person must be super cool. I wonder how I can get them to think they want to be friends with me?" Also, I have a ridiculously skewed sense of celebrity which makes me super excited when I actually get to talk to crafty cool bloggers :)
image from Imagine Gnats
3. How do you handle negative comments or feedback (if you have ever received any?)
Um, yeah. I have, although they've usually been more back-handed compliments, like coming across a pin of a tutorial I wrote that says something like, "decent how-to, but I could so do better." Eek, that was a rough one. Usually I whine to a friend (or two) until they're sick of me, and then whine a little bit more to my husband, and then let it go. I mean, there's really no point in anything else. I do try to stay positive in my blog and in my blogging relationships because I really view the crafting blog community as a place where we all get to be supportive of and supported by each other. We all have a bad day now and then, and I'm certainly a fan of sharing our difficulties and challenges and helping each other through them... but I don't think there is a place in my blog for spending time on being negative. It's just not what I'm there for.
4. What inspires your blog posts?
My blog posts are usually inspired by what I'm making, which is most always something. When I'm not making, I do love to share links of what other things are being made, what events are happening, and just things I'd want to know about in general. Sometimes I write about family; mostly my girls, sometimes the pets, and I try to keep up on my husband's garden (though I'm way behind on that at the moment).
5. Do you ever lose your blog mojo? If yes, how do you get that back?
That's one of those things I hear about and I think, "huh"? I guess maybe I don't have blogging mojo to begin with? ;) Well, I hope not, but I do think that my approach to blogging is pretty laid back. If I have lots of stuff to post about (and time to do it), I'll post two things in one day. If i'm busy or I don't have things to post about, I won't and I don't worry too much about it. I've never been a huge fan of the "I have to take a break from blogging for a week" posts because I feel like if I want to take a few days off, I just will. Inevitably, as my blog has grown, I have taken on certain obligations for some posts, but as far as my "what's going on" posts, I try not to worry too much about a rigid schedule or saying certain things. I do currently have a list of about a dozen things I need to post about that I'd like to find the time to write up. So I suppose what I'd like back is time. because I'm not quite sure where that went!
There are SO many great blogs out there! I find that I mostly read blogs where there is a personal connection to the subject matter or the person writing it, which can be kind of hard to define. It's kind of the same feeling that lets you know whether that person you stand next to in the lunch line is going to be your friend that school year or when you feel like a blind date will lead to a second... there's a chemistry and you want to know what's going to happen. I need that to really be into a blog. With my blog reader currently over 400 subscriptions, I think I might need to reassess, but for now that's my answer ;)
Thanks Rachael!
*********
This week's giveaway is from the lovely
SkyeReve Fabrics
. Natasha has lots of fun new fabrics in her shop including Sarah Jane's Out to Sea and Lecien's Antique Flower. For today's giveaway, SkyeReve is offering one lucky person the chance to win a half-yard bundle of
Apple of My Eye by Riley Blake
.
You have four chances to win:
1. Leave a comment on this post (any comment but since I always love suggesting a topic - how about letting us know what surprised YOU most about blogging.)
2. My followers -old and new- get a second entry. Leave a comment that says "following."
3. For a third entry, click over to Skye Reve and then write a comment about which of their fabric lines is your favorite.
4. And for a fourth entry, promote this giveaway on your blog, twitter, or whatever social media you like and leave a comment that says "Promoted . . ."
The giveaway will remain open until Friday, August 24, 2012 at 8pm EDT and a winner will be chosen at random and announced in next week's blog hop news on August 27, 2012. And, please, unless you are sure that you are NOT a no-reply blogger, leave your email address in the comment.
*********
This week's complicated rules:
1. Anyone who is participating or following along with the hop can add a link that is quilting or sewing-related.
2. Link up any sewing/quilting post you want from your blog. When the link tool asks for your name, type in your favorite pizza topping.
3. If you have any current blog events, link them here as well - just put the name of the event when the link tool asks for your name.
4. Please consider linking to this page from your blog (either a text link or the button) so others can join in as well.
5. Please visit (at least) the person who links up before you and leave a comment to say hello!