1. I finished the ballerina bag for my daughter using
my block from the Dots Hop
. I decided to try something different and added a drawstring top (needed to put something crafty in this post!)
2. Alyce from Blossom Hearts Quilts has organized the Sweet Treats Blog Hop where six of us will be making projects using the new Moda Mini Charm Packs which are 2.5" squares. The hop is sponsored by the Fat Quarter Shop and we'll all be having giveaways on our dates. My date is October 8th and I'm really excited about the project I made. Visit
Alyce's post
for all the details and to see my hop partners.
3. Later that week on October 11th is my turn on the Sew Sweetness Tula Pink Sew Along. Visit Sara's blog for all the details as well as information about the sew along contest.
4. But wait, there's more!
The Travellin' Pic Stitch Blog Hop
- looks like there might be a few October spots available in this fun hop. My date is October 29th and this requires EPP so I better get started!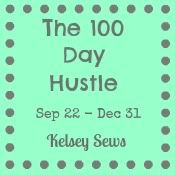 5. Realizing that there are 100 days left in 2012, Kelsey has started a "work-along" called The 100 Day Hustle encouraging us to write a list of what we want to do, craft-wise, for the rest of the year -
here
are the details. This fits nicely in with this post today since the above blog hops are all definitely on my list. Aside from those, I also want to (1) make a quilt for my middle daughter who has been patiently waiting; (2) make some toy buckets for my baby's room; (3) make a stroller blanket that attaches to the stroller; (4) get a variety of pouches, journal covers and other similar items made so I'm not doing so last minute for birthday parties; (5) make a table runner for a present for a specific person; (6) oh, buy a sewing machine so that I can stop using my kid's little one!!! - that should probably be number one on my list but . . . ; and (7) make some more floor pillows for us all to use when playing in my baby's room - hm, I think that is about it for now. I'm sure I'll add to this list many times between now and the end of the year.
6.
Click here
for the link to this week's blog hop news with a great advice post from Bijou Lovely and a giveaway from Quilting Lodge.
7. There are some great fabric discounts and sales at my sponsor's shops:
Fat Quarter Shop
- 20% with code talknt (and don't forget to join the talknt chat tomorrow at 1pm or 9pm)
Contemporary Cloth
also has 20% off with code FALL or FB (I'd really like to get some Simpatico or Yuwa at some point!) Plus, they also have a great $5/yard section with some fun Alexander Henry prints.
Marmalade Fabrics
has great fabrics in their specials section including Lark, LouLouThi, and Ruby Star
Christa Quilts
has lots of Amy Butler in her clearance section - also her daily deal today is Berenstain Bears.
Tactile Fabrics
has some beautiful Art Gallery prints on sale including Dreaming in French.